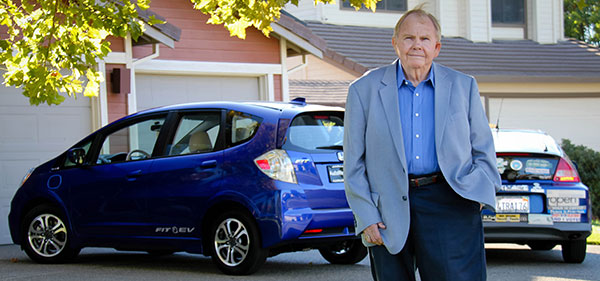 Work with ultracapacitors is just another fun day at the office
By Jamie Knapp • J Knapp Communications
"Most people have sense enough to not be coming to work when they're 80," admits Andrew (Andy) Burke with an impish smile.
So why does he continue to work when most of his contemporaries choose to spend their days somewhere other than an office, buried in mountains of paper and studying data or a computer screen? Burke, a research engineer with the UC Davis Institute of Transportation Studies, simply loves his work.
"I'm working because it's the most interesting way I know to spend my time," he says. "I like to interact with young, smart people. When you're younger, you're smarter than people give you credit for. When you're old, people give you credit for being smarter than you really are. The last place I want to be is around old people."
And so Burke arrives on campus before 8 a.m. – that is, when he's on campus. He's just as likely to be speaking at a conference, delivering a paper at a technical meeting, or traveling the globe to meet with researchers and business people. In the last couple of years, he has traveled to China four times, Japan, Germany, Poland, France and other European countries, and numerous American cities.
"I'm able to travel the world, meet interesting people. And people seem to be interested in what I'm doing," he says modestly. That's more than enough to keep him going.
Burke has spent the past 30 years of his career studying batteries, ultracapacitors, and hybrid and electric vehicle technologies. He is known as one of the world's leading researchers in energy storage systems. He directs the EV Power Systems Laboratory on campus, teaches graduate courses on advanced electric drivetrain technologies, and leads the vehicle technology evaluation component of the Institute's NextSTEPS Research Program.
Since 1980, Burke has authored more than 100 reports and papers, and made at least 200 presentations on electric and hybrid vehicles and related topics. He was the recipient of the first Annual Leadership Award in Advancing Energy Storage, presented at the Advanced Energy Storage (AES 2010) Conference.
Much of his work focuses on the relationship – and competition – between two energy-storage technologies: batteries and ultracapacitors. Ultracapacitors are sometimes called supercapacitors or electrochemical capacitors. Ultracapacitors, he explains, have very long cycle life and very high power, which in an electric-drive vehicle provides efficient acceleration and regenerative braking. Batteries have much higher energy density, which translates to greater driving range.
Combined, they could provide an impressive energy-storage package for vehicles, with ultracapacitors reducing the peak electrical load on batteries (or fuel cells), thereby, extending their lives and reducing their cost. However, ultracapacitors are presently expensive and the combined systems are thought to be complex, so the auto industry has been slow to adopt them.
Burke's research involves comparing these technologies' relative desirability, projecting future performance, fuel savings, emissions and costs, and comparing them with conventional drivetrains. In his laboratory, testing equipment repeatedly charges and discharges various sizes and configurations of energy storage devices to simulate their performance in a vehicle operating on the road.
Researchers are also modeling advanced battery chemistries to project their characteristics before and during development, and testing how different lithium chemistries respond to fast charging. Working closely with Burke are senior development engineer Marshall Miller and associate project scientist Hengbing Zhao, both of whom are also members of the ITS-Davis NextSTEPS research team.
Although Burke was involved in establishing standard test procedures used by industry and government to test ultracapacitors, he has since evolved his own procedures, which he says are more realistic simulations of how the devices will perform in vehicles. Burke says industry representatives see him as an honest broker because he tests batteries and ultracapacitors from all over the world and reports the results in a consistent manner.
"Battery guys think I'm partial to capacitors and capacitor guys think I'm partial to batteries. I try to call it the way I see it."
One of Burke's big dreams is to retrofit a hybrid vehicle with ultracapacitors – no battery – to demonstrate on the road what his vehicle simulations and lab tests indicate: that capacitors, alone in a hybrid vehicle, will deliver larger improvements in fuel economy than a lithium battery.
The only thing holding him back is adequate research funding.
A near-term commercialization application for ultracapacitors will be the start-stop hybrid technology presently being introduced in Europe. This technology shuts down the engine when the car is stopped and then starts it up again as soon as the driver touches the accelerator. Burke suggested combining capacitors with lead acid batteries for this application a number of years ago. He is pleased to see it finally happening.
Burke came to Davis in 1994, after working 40 years in academia and private industry. He started his career in aerospace at Bell Aerosystems in Buffalo, N.Y., where he worked on the Dyna-Soar (Dynamic Soarer) project to build a manned, reusable space plane that took off as a rocket and landed as an airplane – the precursor to the Space Shuttle. Along the way he finished an interrupted Ph.D. in Mechanical and Aerospace Engineering at Princeton, worked for another 10 years in private industry, took a position as a chemical engineering professor at Clarkson University in Potsdam, N.Y., and, in the 1970s, was a mechanical engineering professor at Union College in Schenectady, N.Y.
He first got involved with vehicles and their emissions at Clarkson and continued work on vehicle drivelines and energy storage at the Aerospace Corporation and the Jet Propulsion Laboratory in Pasadena before working on the first U.S. Department of Energy hybrid vehicle project in the late 1970s at the General Electric R&D Lab back in Schenectady. He has worked on electric and hybrid vehicles ever since. His career then took him to the Idaho National Laboratory (INEL), where he began his exploration of ultracapacitors.
Burke says he was first drawn to UC Davis by the work of Professor Andy Frank, known internationally as the father of the plug-in hybrid vehicle, and, after meeting ITS-Davis Director Dan Sperling, he knew this was the place for him.
"It was clear that California was the center of research and promotion of these kinds of advanced, super-clean, super-efficient vehicles. In the early 1990s, the rest of the country was nowhere. I thought this was a unique opportunity," Burke says.
At ITS-Davis, Burke not only has conducted leading-edge research and built his international reputation, but also has transferred his knowledge to the next generation of researchers and students by working individually with students and by contributing to several engineering encyclopedias and reference textbooks.
He is particularly proud of his contribution in Linden's Handbook of Batteries (edited by Thomas Reddy, published by McGraw Hill, 2011), Chapter 39, on electrochemical capacitors.
"To get ultracapacitors in a battery book is symbolic," Burke says. He also has contributed articles on batteries, ultracapacitors and hybrid vehicle simulation to a forthcoming Wiley Encyclopedia of Automotive Engineering.
He calls those writing projects labors of love because they are time-consuming and they bring little financial compensation and less recognition than a formal academic paper. But his quest for knowledge continues to be his primary motivator.
"Why shouldn't I keep working? We're in the middle of a very exciting time. I've been at this business for a long time, and it's only now that HEVs and EVs are really coming into the marketplace.
"I've been saying since the 1970s that I can't see any reason why every car shouldn't be a hybrid. I've thought that for over 35 years and still think in 15 to 20 years, it will happen."
Photo: ITS-Davis researcher Andy Burke at home with his two personal cars — a 2001 Honda Insight and 2013 Honda Fit. He plans to retrofit the Insight with supercapacitors. (Sylvia Wright — UC Davis)
Read Burke's latest papers:
Burke, Andrew F. and Hengbing Zhao (2012) Energy Saving and Cost Projections for Advanced Hybrid, Battery Electric, and Fuel Cell Vehicles in 2015-2030. Institute of Transportation Studies, University of California, Davis, Research Report UCD-ITS-RR-12-05
http://pubs.its.ucdavis.edu/publication_detail.php?id=1636
Burke, Andrew F., Marshall Miller, Hengbing Zhao (2012) Ultracapacitors in Hybrid Vehicle Applications: Testing of New High Power Devices and Prospects for Increased Energy Density. Institute of Transportation Studies, University of California, Davis, Research Report UCD-ITS-RR-12-06
http://pubs.its.ucdavis.edu/publication_detail.php?id=1637
Burke, Andrew F., Marshall Miller, Hengbing Zhao (2012) Fast Charging Tests (up to 6C) of Lithium Titanate Cells and Modules: Electrical and Thermal Response. Institute of Transportation Studies, University of California, Davis, Research Report UCD-ITS-RR-12-07
http://pubs.its.ucdavis.edu/publication_detail.php?id=1638
View his latest presentation:
Performance of Advanced Ultracapacitors and Prospects for Higher Energy Density Burke, Andrew F. and Marshall Miller. 45th Power Sources Conference, Las Vegas, Nevada, June 11-14, 2012
https://itspubs.ucdavis.edu/files/general/pdf/2012-09-21_Burke_powersourcesconf.pdf
Watch Burke explain electrochemical capacitors on You Tube: 
http://www.youtube.com/watch?v=s4B1aViSKgc
See also:
Electrochemical Capacitors: Challenges and Opportunities for Real-World Applications, published by the Electrochemical Society. http://www.electrochem.org/dl/interface/spr/spr08/spr08_p53-57.pdf