Time
1:40pm - 3:00pm
Location
1605 Tilia, Room 1103, West Village
Speaker(s)
Tony Tavares, Director of the Department of Transportation (Caltrans)
Abstract
California Department of Transportation (Caltrans) Director Tony Tavares will present the guiding principles and key projects that reflect the modern and transformative vision of the Department. Director Tavares will share Caltrans' vision built around its Four Foundational Principles of Safety, Equity, Climate Action and Economic Prosperity and how each principle functions within the supporting framework of Caltrans' Five Priorities of Safety, Modality, Innovation, Efficiencies and Partnerships. He will discuss sustainable infrastructure practices, research innovation, and provide guidance for success and competitive employment in transportation civil engineering.
Biographical Sketch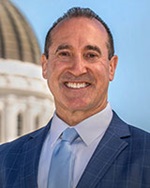 Tony Tavares was appointed the 34th Director of the Department of Transportation (Caltrans) by Governor Gavin Newsom and sworn in June 2022.
Director Tavares manages a $20 billion budget and nearly 22,000 employees who oversee 50,000 lane miles of highway, maintain approximately 20,000 bridges, provide permitting of more than 400 public-use airports, fund three of Amtrak's busiest intercity rail services and provide transit support to more than 200 local and regional transit agencies.
Director Tavares advanced Caltrans' commitment to build a multimodal transportation system that prioritizes safety, equity, and climate action.
While maintaining these existing Department principles, he established an important fourth guiding principle: economic prosperity.
Following the Five Priorities that create a supporting framework for the Department, he and leadership introduced the Four Foundational Principles: Safety, Equity, Climate Action, and Economic Prosperity.
His vision was incorporated into a new Strategic Plan that continues to build on the Department's people-focused purpose and on strong local partnership.
Director Tavares is a respected mentor in his field, known for his continuous development of others in the field and championing a culture of transformative innovation and intelligent risk-taking – all to achieve the goal of zero traffic-related deaths for Californians and reduce GHGs by 40 percent by 2035. Director Tavares most recently served as Director of Caltrans District 7. This region encompasses expansive Los Angeles and Ventura counties and boasts 25 percent of California's population; an annual construction program of more than $2 billion; and some of the most innovative solutions to help move people and goods through southern California, part of what has now become the fourth largest economy in the world.
Prior to overseeing District 7, he served as Caltrans Bay Area Director (District 4) where he was instrumental in implementing California's landmark Senate Bill 1 (SB1), the Road Repair and Accountability Act.
From 2010 to 2018, Director Tavares served as the statewide Division Chief for Maintenance. There, he directed 7,000 multi-disciplinary professional employees with an annual budget allocation of almost $2.2 billion. In the first year of SB1, he also delivered over $1 billion in pavement, bridge, and culvert projects.
Director Tavares is a graduate of University of California, Davis, with a Bachelor of Science degree in Civil Engineering. He is a Professional Engineer (PE) and a certified Project Management Professional (PMP).