Time
1:40pm - 3:00pm
Location
1605 Tilia, Room 1103, West Village
Speaker(s)
Toks Omishakin, Director of the Department of Transportation (Caltrans)
Abstract
A respected thought leader in the transportation sector, Toks Omishakin will present an overview of Caltrans, the nation's largest state Department of Transportation. As Director of such a massive organization, he will share the importance of the Department's people-focused purpose and the supporting framework consisting of Caltrans' 5 Priorities, 3 Foundational Principles and 4 categories of Equity. Each one of these bases provides consistent footing for the Department by guiding Caltrans toward its goals as well as serving as a solid foundation when confronting challenges. Director Omishakin also looks to discuss qualities for leadership success and key knowledge, skills and values necessary for graduate students to be successful in the workplace.
Biographical Sketch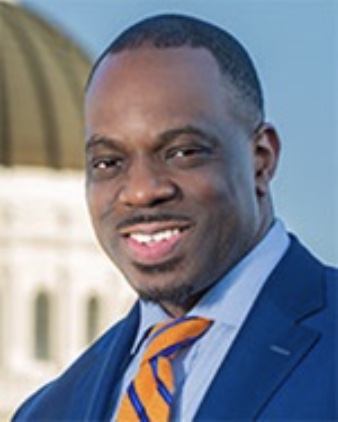 Toks Omishakin was appointed the 33rd Director of the Department of Transportation (Caltrans) by Governor Gavin Newsom and sworn in October 2019. Director Omishakin manages a $17.3 billion budget and nearly 22,000 employees who oversee 50,000 lane miles of highway, maintain approximately 20,000 bridges, provide permitting of more than 400 public-use airports, fund three of Amtrak's busiest intercity rail services and provide transit support to more than 200 local and regional transit agencies.
Director Omishakin's transportation vision for California features a safe, equitable, sustainable, and multimodal transportation system that builds on strong local partnerships. He and the leadership team established the 5 Priorities for the Department in 2019 and, in 2020, finalized a new Strategic Plan with a focus on Caltrans' foundational principles of Equity, Climate Action and Safety. He also encourages a Caltrans culture of innovation and intelligent risk-taking, as transformative innovation will be needed to achieve zero traffic-related deaths and reduce GHGs by 40% by 2030.
Having been immersed in the transportation industry for almost two decades, Director Omishakin came to Caltrans following eight years with the Tennessee Department of Transportation (TDOT). There, he successfully established environmental, multimodal and planning policies to make TDOT one of the best state DOTs in the country. As Deputy Commissioner for Environment and Planning, he was responsible for an administrative and project budget of more than $300 million annually. He also led the activities of the divisions of Environmental Services, Long-Range Planning, Multimodal Transportation Resources, and the Freight and Logistics Division.
Prior to that role, he served as Director of Healthy Living Initiatives in the Nashville Mayor's Office. In that capacity, he led development of Nashville's Complete Streets Policy and helped establish a more balanced approach to transportation planning and design. This included spearheading creation of two bicycle sharing programs.
In December 2019, Omishakin became Chair of the Council on Active Transportation for the American Association of State Highway and Transportation Officials (AASHTO). This came after serving two years as committee vice chair and serving as inaugural chair of AASHTO's Multimodal Task Force. He is on the Board of America Walks, Veloz, Mineta Transportation Institute and ITS World Congress and has advised the U.S. Federal Reserve Bank of St. Louis through its Transportation Council Board.
Born in Knoxville, Tennessee, Omishakin and his wife have two children. He is completing a Ph.D. in Engineering Management from the University of Tennessee, Knoxville; has a master's degree in Urban and Regional Planning from Jackson State University; and a Bachelor of Arts in Engineering Technology from Mississippi Valley State University.