A Road Trip Like No Other:
Mobility Quest Annually Takes UC Davis
Transportation Grad Students on a Multi-Modal Adventure
By Alicia Nguyen
Transportation Technology and Policy grad students and MobQuesters Sarah Strand and Jamey Volker also contributed to this article.
Each year, just before fall quarter begins, incoming ITS-Davis students embark on the annual road trip, Mobility Quest (MobQuest), led by some of their seasoned peers. They took a six-day, multi-modal adventure—travelling by van, streetcar, bus-rapid transit, bike share, and on foot—from Davis to Portland, Oregon, and back. MobQuest has always been an important way for incoming students to get a sense of ITS-Davis' interdisciplinary style of integrating all fields of transportation. Since its inception, this ITS-Davis tradition has become a critical opportunity for new ITS students to connect with their peers and dive into real-life transportation policy, and experience first-hand the West Coast's expansive transportation network.
To kick things off, students were introduced to the transportation planning and policy sphere of California through a meeting on campus with a panel of local, regional and statewide transportation policy experts and leaders—including Janet Dawson (Chief Consultant, California State Assembly Transportation Committee), Chris Ganson (Senior Planner, Governor's Office of Planning and Research), Kacey Lizon (Planning Manager, Sacramento Area Council of Governments) and Chris Dougherty (Transportation Program Specialist, City of West Sacramento). Students also met Professor John Harvey, Chair of the Transportation Technology and Policy graduate group, who introduced the event. The meeting provided a robust overview of the key California policies and projects to keep an eye on. They include federal and state funding streams, shifting policies to better accommodate non-vehicular modes, planning for automated vehicles, understanding the recently adopted Metropolitan Transportation Plan, and getting a sneak-peek at anticipated streetcar and bridge construction in the coming years. The kick-off event showcased the extensive network of transportation professionals that ITS-Davis has cultivated over its 25 year history.
Shortly after, they hit the road. MobQuesters made their first stop in Eugene, Oregon, where they learned about local planning efforts from city staff, rode the nationally acclaimed Emerald Express bus rapid transit system, and enjoyed a comprehensive bike tour led by the University of Oregon-based active transportation student advocacy group, LiveMove.
As they made their way from Eugene to Portland, MobQuesters pit-stopped at Seneca Sustainable Energy to learn about how a local sawmill produces and sells energy by harnessing woody-mass by-products as biofuel.
Once in Portland, the ITS-Davis students visited Daimler Trucks North America, where they received a presentation from the director of the Concept Vehicles Group on the Freightliner SuperTruck Challenge—the original 50% freight-efficiency goal, achieving an overall 115% freight-efficiency. Students also watched CEO, Martin Daum bury a time capsule at the site of the company's new Portland facility, including License Plate 001, for the first licensed automated truck in the United States. (And yes, Daimler showed pictures of the Transformers truck.)
Following a tour of the Port of Portland, MobQuesters embarked on an epic multi-modal, educational scavenger hunt. Teams hunted through parks, redevelopment projects, transit-oriented developments, Union Station, and the Pioneer Courthouse Square by foot, took Portland's newly minted BIKETOWN bike share for a spin, and rode the Portland Streetcar. Along the way, they stopped at famous Portland landmarks such as Voodoo Donut and Powell's City of Books, where the ITS-Davis students had no trouble finding Director Dan Sperling's magnum opus—2009's acclaimed book, "Two Billion Cars: Driving Toward Sustainability." In addition to their multimodal transportation tour of the city, the scavenger hunt provided a fun-filled team-building and bonding experience for students. The adventure came to a close over a well-earned dinner at the BridgePort Brewery.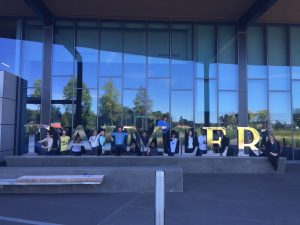 Following Portland, final MobQuest stops included a tour of the Old Mill District, a mixed-use development of Bend, Ore, and Crater Lake National Park, where students marveled at sweeping views of the deepest caldera lake in the nation. Mobility Quest 2016 was brought to a ceremonious close with a sustainability tour and dinner at Sierra Nevada Brewing Co in Chico, California. The brewery boasts innovative closed loop approaches to the production of beer, food, and energy, ranging from methane recapture, solar power, carbon dioxide recycling, onsite water treatment, composting, local sourcing, and organic gardening. The Sierra Nevada tour helped expand the reach of transportation curriculum to consider resources systems on a broader scale, considering the transport of goods but also the use of various resources along the way. To celebrate the end of a successful trip, MobQuesters raised their glasses to the lasting friendship built among the newest ITS family members.
Mobility Quest provides incoming students with an unforgettable transportation experience and serves as a catalyst for friendships and professional connections that serve students well into the future—for some, a lifetime. Its tours, presentations, and site visits, offer students fresh inspiration to pursue innovative research, refine their course plans through mentorship with continuing students, and make critical connections to assist them in navigating their graduate school journey in the coming years. Mobility Quest illustrates the interdisciplinary nature of ITS-Davis, bringing together engineers, planners, policy makers, and other skilled learners from broad and varied backgrounds to innovate sustainable solutions for the next century of transportation.
With the 2016-17 academic year now well under way, we look forward to watching how ITS-Davis students, new and returning, will continue to lead ITS-Davis into the future.
Mobility Quest Memories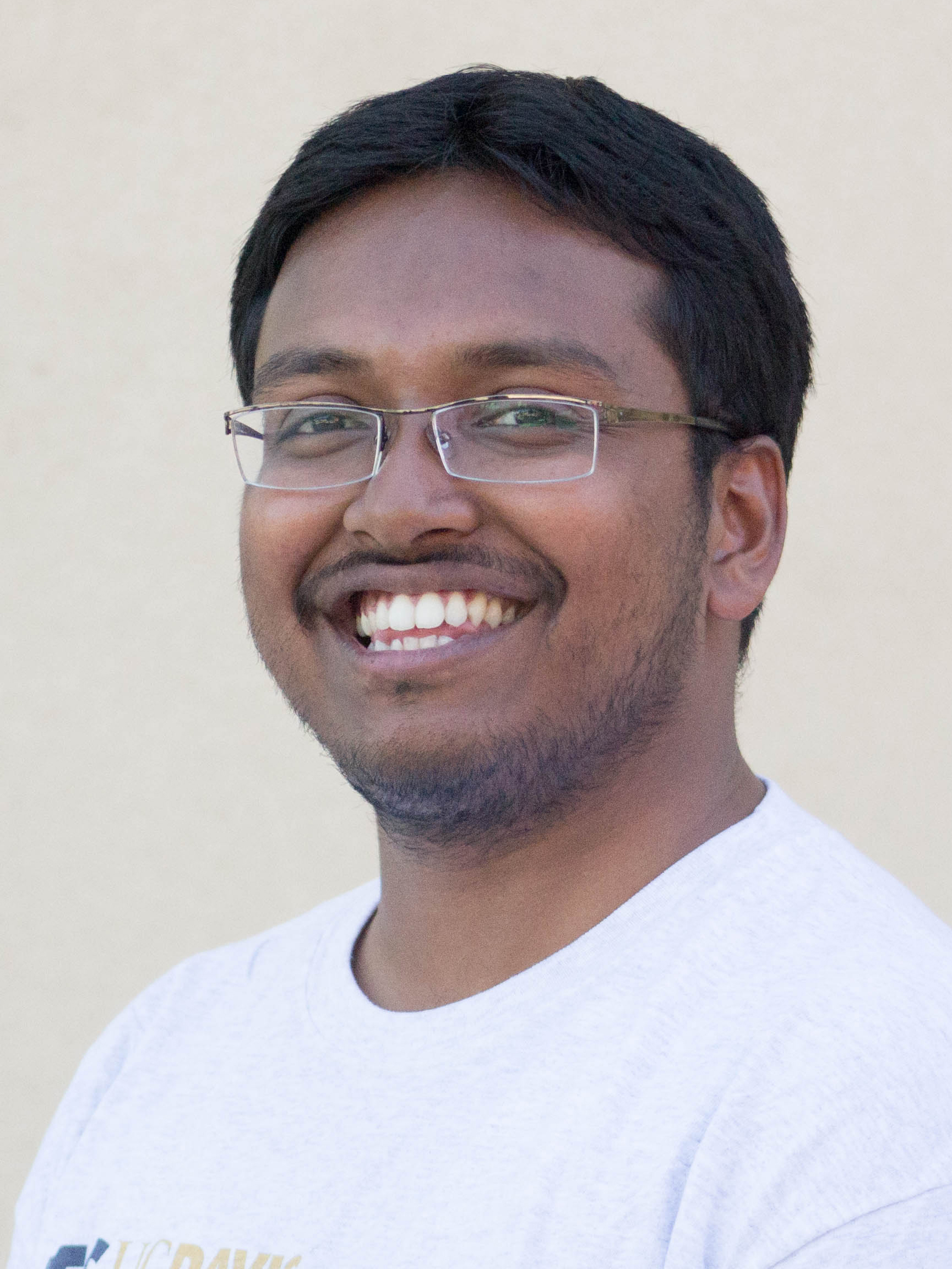 "MobQuest was one of those trips I will probably remember for the rest of my life. As an international student, it provided me with a range of perspectives on everything from the way of life, choice of careers and focus among the issues in the transportation sectors from people with a variety of educational backgrounds. Along with a great insight into policies, planning and execution of different organizations and companies, MobQuest is a great way to meet and get to know your cohort: both continuing and fellow incoming students. The friendships formed during the trip make the entire stay at Davis more comfortable and some of them will hopefully become lifelong associations. A special thanks to Sarah, Jamey, Hanjiro and Xiuli for the warmth, openness and tolerating and taking care of all of us. For me, MobQuest is what changed Davis' status from a 'new city' to 'home'." –Sampat Kedarisetty (Ph.D. Civil Engineering)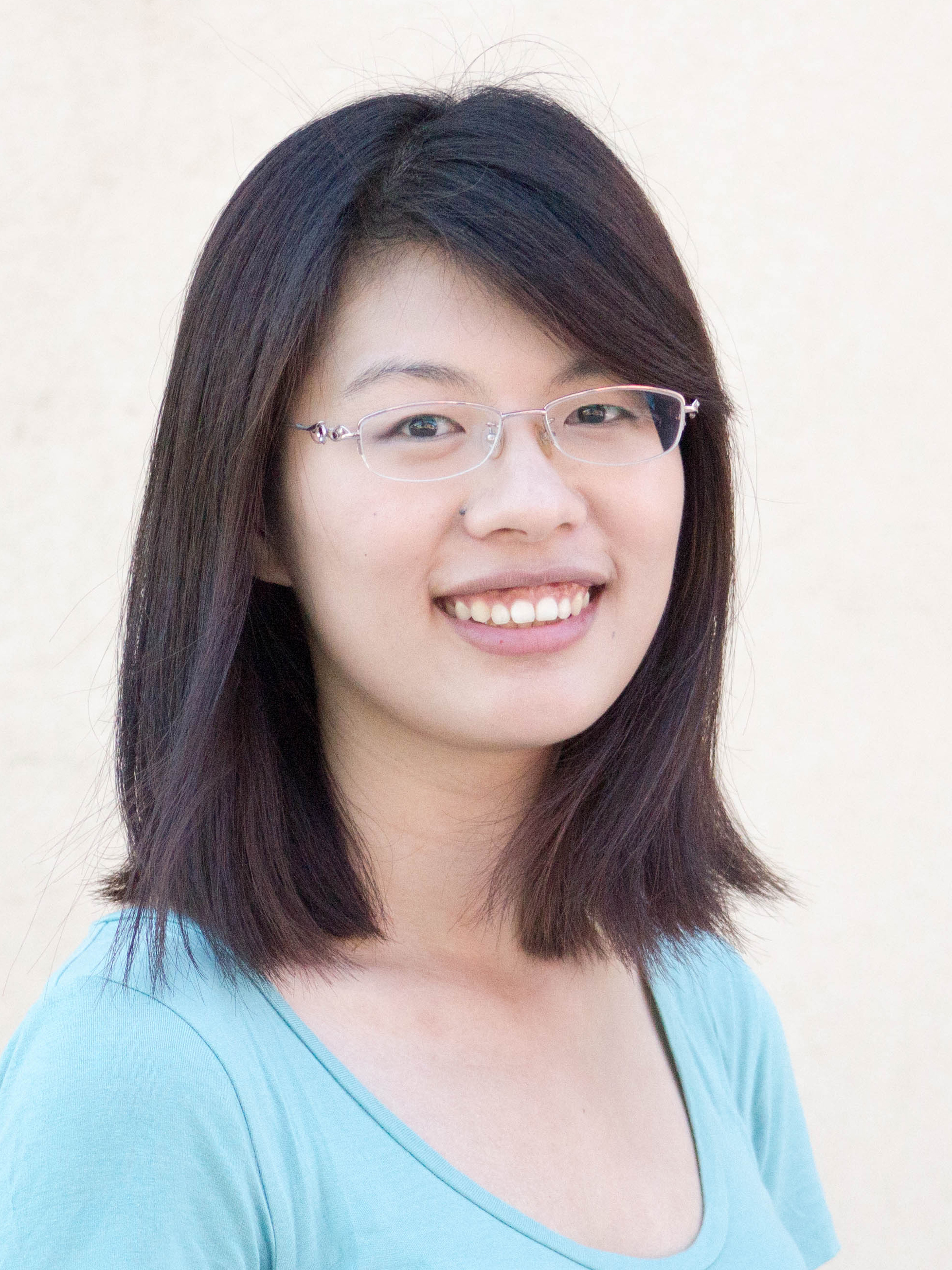 "MobQuest was a wonderful opportunity to bond with all the students in the cohort. I had so much fun getting to know everyone! We went on lots of exciting tours to learn about transportation and energy. It was an amazing trip!" –Yishu (Albee) Wei (M.S. Transportation Technology and Policy)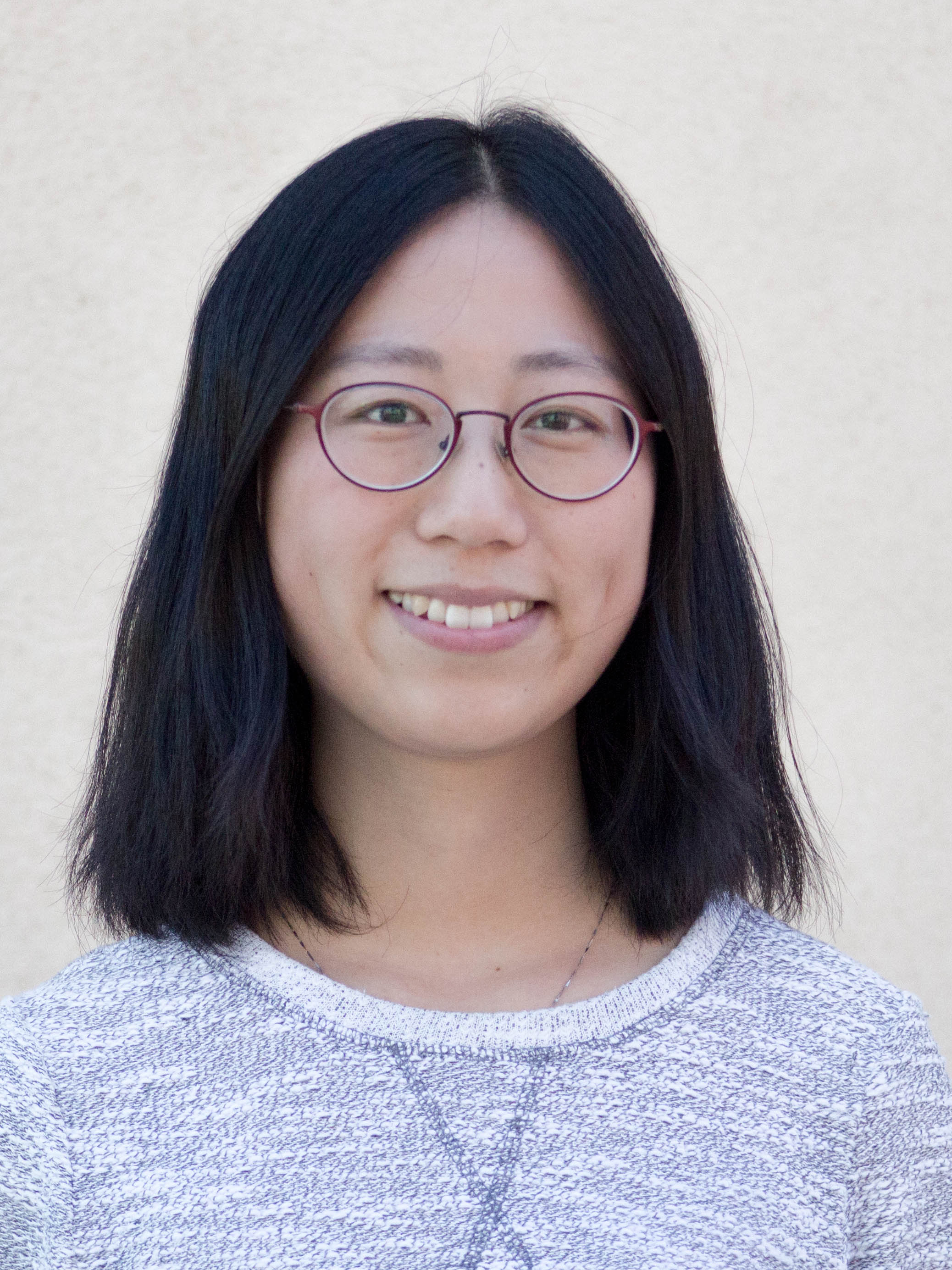 "I met a lot of wonderful people! So many friendships! The memorable event is the scavenger hunting. Thanks to Sarah, the organizer, we had so much fun. Definitely I will recommend it to prospective students. It will be a great experience in your life. We learned a lot during the trip not just about transportation technology, also the sustainability, how transportation influences people's life. More importantly, I have met so many awesome people which will be helpful for my incoming study." –Liya Jiao (Ph.D. Civil Engineering)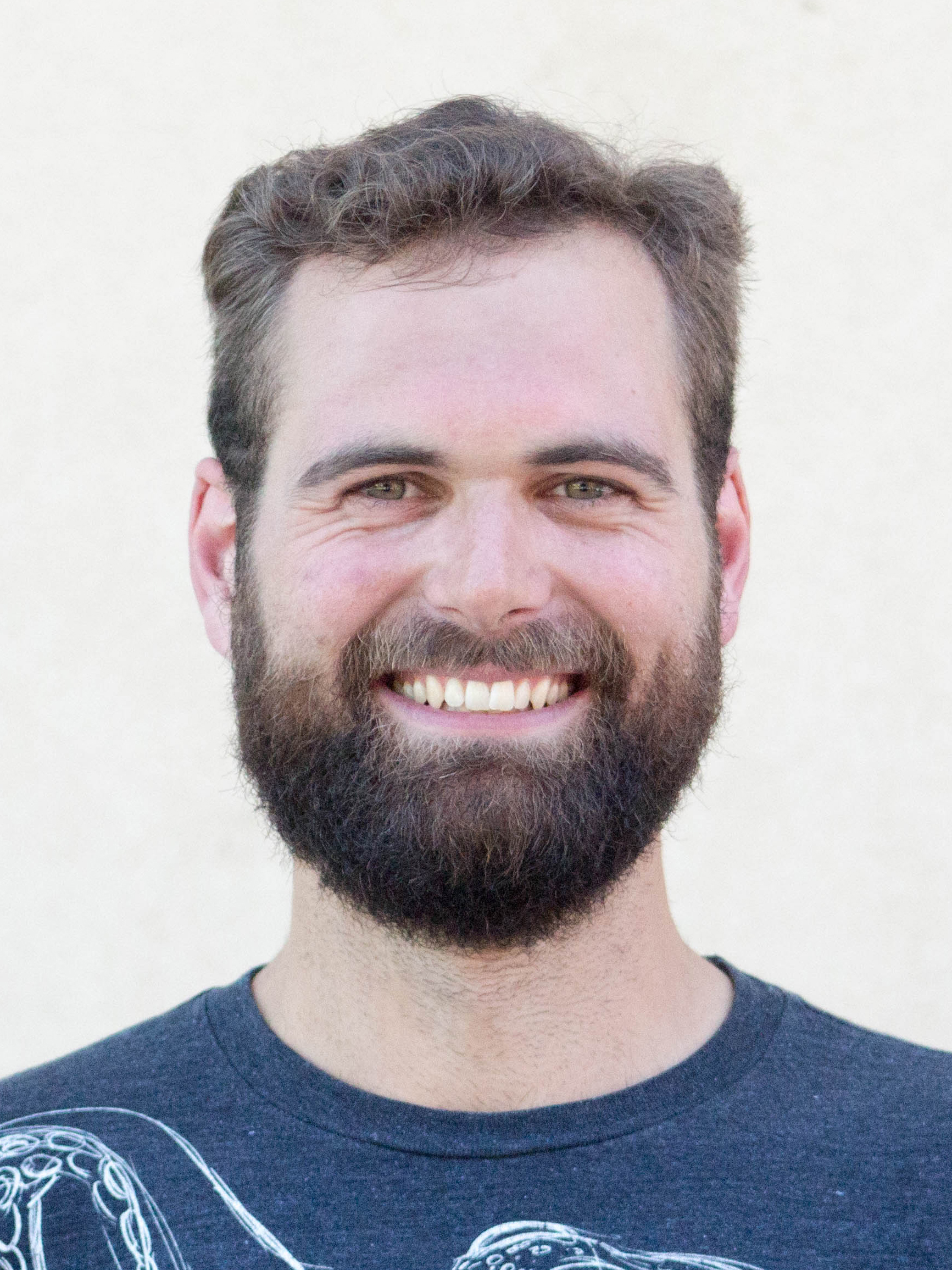 "Mobility Quest was an incredible opportunity to learn about the transportation sector from real-world practitioners while building lasting relationships with my new classmates. The content spanned a broad range of topics within transportation, and I found our discussions with transportation and energy experts to be highly informative as I enter the program. Likewise, the emphasis on public policy issues of sustainability, equity, land use, and safety were informative and stimulated a lot of discussion within our group. I had a great time learning about the specialties of my classmates, such as pavement technology and environmental permitting, conversations which built knowledge while also building new friendships. All in all, I feel that Mobility Quest gave me a great foundation for both academic and social success with which to begin the Transportation Technology and Policy program." –Nick Pappas (M.S. Transportation Technology and Policy)