ITS-Davis Researchers Are Bringing the Sustainable Transportation Revolution to the Nation's Capital at TRB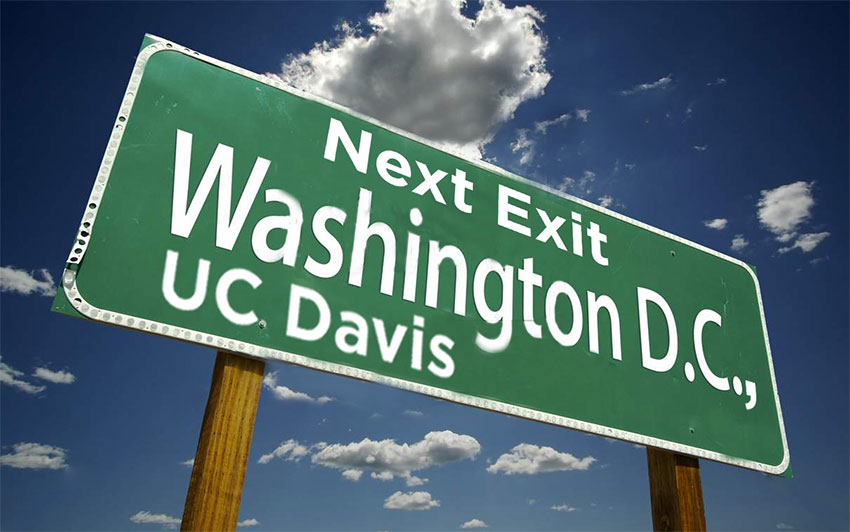 The Institute of Transportation Studies at UC Davis (ITS-Davis) will be a major presence at the 98th meeting of the Transportation Research Board (TRB) in Washington, D.C. from Jan. 13-17, 2019 with faculty and students represented at many program sessions and honorees recognized at award ceremonies. Additionally, ITS-Davis will host its popular annual reception and legislative briefings on Capitol Hill.
Nearly 60 ITS-Davis academic and research faculty and students from the Transportation and Technology Policy (TTP) graduate program are participating in the conference. Faculty will preside over TRB committee and meetings, and faculty and students will present their research findings at workshops, lectern sessions, and poster sessions. Their presentation topics will cover a wide range of topics from the local to the global, investigating the current revolutions in transportation that are a hallmark of today's innovative ITS-Davis research. View a complete list of ITS-Davis presenters and presiders and the sessions in which they're participating.
Two ITS-Davis/TTP faculty members will also be presented with awards at TRB-week events.
Dan Sperling, Distinguished Blue Planet Prize Professor of Civil Engineering and Environmental Engineering and Environmental Science and Policy, and founding Director of ITS-Davis, will be presented with the annual 2018 Roy W. Crum Award at the TRB Chairman's Luncheon on Jan. 16. The award recognizes outstanding leadership in transportation research or research administration. As described in the award announcement, Dr. Sperling is "recognized for his distinguished achievements in transportation research in the areas of energy, air quality, climate change, and policy; as well as for the research achievements of the many students he has mentored."
UC Davis Assistant Professor of Civil and Environmental Engineering Miguel Jaller will be presented with the 2018 Cambridge Systematics New Faculty Award from the Council of University Transportation Centers, at the Council's Annual Awards Banquet on Jan. 12. The award is given annually to a tenure track faculty member in transportation education who demonstrates "outstanding teaching and research contributions to the transportation field," as well as public service.
ITS-Davis will continue its longstanding tradition of hosting a TRB reception, with the opportunity to meet with faculty, students, alumni, and friends. The reception-celebration will be held on Jan. 15 at 8 p.m. in Shaw Ballroom, Courtyard by Marriott, Washington Downtown/Convention Center, 901 L Street NW, Washington, DC 20001. No RSVP is required and light refreshments will be served.
ITS-Davis also will be hosting two Capitol Hill research briefings:
On Jan. 16, 11:45 a.m.–1:30 p.m. a briefing entitled "The 3 Revolutions in Transportation: Governance Needs & Opportunities"— at the Rayburn House Office Building and is hosted by the UC Davis Policy Institute for Energy, Environment, and the Economy along with the 3 Revolutions Future Mobility Program at ITS-Davis. Register here.
On Jan. 17, 12:30–1:30 p.m. a briefing entitled "Research Highlights from the National Center for Sustainable Transportation: Better Governance Through A Strong Workforce and Effective Incentives" — at the Dirksen Senate Office Building. Register here.
Learn about Opportunities to Study or Work at ITS-Davis
With so many faculty, students, and alumni gathered in D.C., TRB offers a great opportunity to find out firsthand about the renowned Transportation Technology and Policy (TTP) Graduate Program, hosted by ITS-Davis, as well as transportation postdoctoral research position opportunities that are available at ITS-Davis in our STEPS+ Program.
Professor Susan Handy, TTP's faculty director, and Dr. Gil Tal, TTP's graduate advisor for recruitment and admissions, will be in D.C. for the TRB annual meeting.  Other faculty, students, and alumni at the meeting can provide their unique insights and describe their experiences in transportation study and research at UC Davis while pursuing their M.S. and Ph.D. degrees.
In addition, ITS-Davis Graduate Program Coordinator, Annemarie Schaaf, will be at the Careers in Motion Networking Fair, Sunday, January 13, 10:00 a.m. to 2:00 p.m. On, Jan. 14–15 she will also be in D.C. and available for in-person meetings. Contact her at aschaaf@ucdavis.edu with questions or to set up an appointment.
Several postdoctoral research positions are currently available at ITS-Davis, with the Sustainable Freight Research Center, the Energy Futures Program, and the 3 Revolutions Future Mobility Program.