Mobility Quest 2017: A Grad Student Field Trip Where "A Group of Strangers Became a Community"
For several years, incoming ITS-Davis students have started their academic year with a fun-filled and educational travel adventure that serves as a bonding experience and an opportunity to learn about transportation in the real world. This year's Mobility Quest (MobQuest) was a five-day, multi-modal trip to the Bay Area and beyond, featuring several transportation innovations unique to northern California.
To kick things off, students headed to Santa Cruz with surf, sun, sand, and mobility on their minds. MobQuesters meandered along Beach Street, observing historic railroad tracks, protected bike lanes and welcoming pedestrian facilities. Later, they hovered above the beach boardwalk aboard a transportation mode that is only offered in a few places in the world—the Sky Glider gondola—then enjoyed a home-cooked dinner and fun evening of games, with a bonfire in the yard.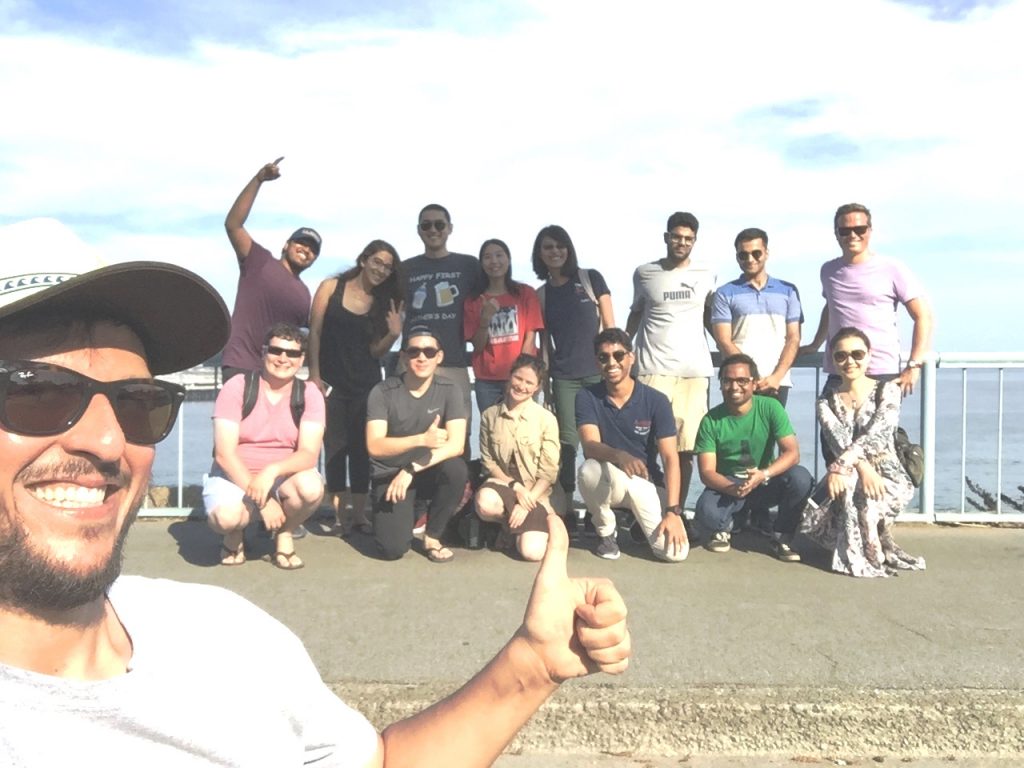 Leaving the beach behind and turning their focus more directly toward their chosen transportation studies, MobQuesters rose early the next morning and traveled to the BMW Group Technology Office in Mountain View, Calif. There they learned about BMW's sustainability efforts, battery and autonomous vehicle technologies, and outlook on new mobility trends.
In the afternoon, the group visited the newly opened Warm Springs/South Fremont BART Station. Fellow Aggies Paul Medved, the station manager and Zhiming Fan, deputy project manager, led a tour around the terminal, which has achieved LEED Silver certification. Medved and Fan shared the many successes, challenges and lessons-learned throughout the process of station design and construction, and discussed their plans to continue to modify the station as nearby housing needs grow.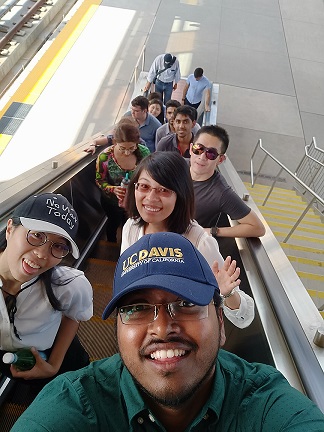 The next stop was BART headquarters in Oakland. Coincidentally, their visit fell on the 45th anniversary of BART's first day of revenue service. Chief Planning and Development Officer Robert Mitroff discussed BART's system upgrade and improvement plans that will enable BART trains and stations to handle more users.
The next day, MobQuesters took BART from Oakland to San Francisco. In the morning, they visited San Francisco Municipal Transportation Agency (SFMTA), where they were joined by Professor Susan Handy, director of the National Center for Sustainable Transportation. There they learned about San Francisco's long-range and project-level planning efforts to improve mobility through active transportation and public transit. SFMTA transportation planners and engineers took the students on a tour of the newly finished 7th and 8th Streets Safety Project, which demonstrates how lane removal, protected bikeways, and boarding islands can make city streets more welcoming and safe.
After lunch with SFMTA staff and Aditi Meshram, an ITS-Davis student who interned at SFMTA last summer, MobQuesters took a Muni bus to their next destination, the International Council on Clean Transportation (ICCT). This visit felt a little like old home week, thanks to ICCT's employee ties to UC Davis, including ITS-Davis alums Ben Sharpe, Mike Nicholas, Josh Miller, and Nic Lutsey. There, MobQuesters learned about the non-profit organization's international research programs on transportation technology and policy. Before hopping back on BART, they walked down Market Street to check out the Ferry Building Marketplace, and took a group picture in front of the Bay Bridge.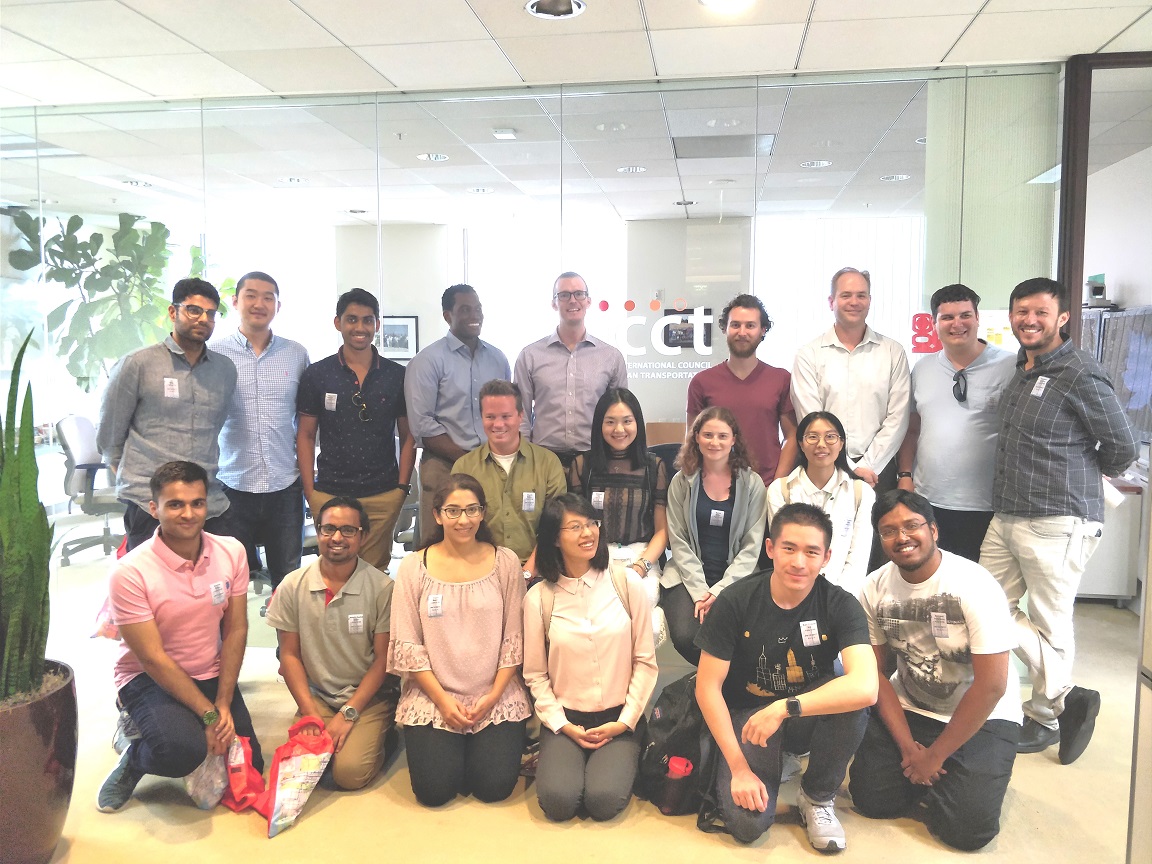 Following the multi-modal adventure day in San Francisco, MobQuesters met up with incoming students from the new UC Davis Energy Graduate Group at the Chevron Technology Center in Richmond, Calif., where they were joined by ITS-Davis faculty members Alissa Kendall, Catherine Brinkley, and David Rapson. Students learned about the refinery process and discussed emissions and energy efficiency with Chevron's environmental and air quality team. To complete the Refinery 101 lesson, students took a bus tour of the refinery facility and visited the fuel technology and engine testing labs.
The last day took MobQuesters to environmental consulting firm Fehr & Peers in Walnut Creek, Calif. to learn how transportation consultants are using technology innovations and big data to design a better transportation system. At their final stop, students visited Contra Costa Transportation Authority's GoMentum Station in Concord, Calif., the nation's largest secure testing facility for autonomous and connected vehicle technology. Students observed varied terrain and infrastructure that closely mimics real-world conditions, and saw some autonomous vehicles, quite literally, "on the horizon."
Mobility Quest provides incoming students an unforgettable introduction to their new grad school program, offers fresh inspiration to pursue innovative research, and serves as a catalyst for friendships and professional connections that serve students well into the future—for some, a lifetime. It illustrates the unique, interdisciplinary nature of ITS-Davis, bringing together engineers, planners, policy makers, and other skilled learners from broad and varied backgrounds to innovate sustainable solutions for the next century of transportation.
With the 2017-18 academic year now well under way, we look forward to watching how ITS-Davis students, new and returning, will continue to lead ITS-Davis into the future.
Mobility Quest Memories
"MobQuest was the best trip of my life, so far. It showed me how the transportation system, from transit operation, to urban planning to vehicle technology, transforms our daily lives. Seeing these systems in the real world is always different from things we see in a laboratory. It was a good combination of academic and social experience, along with nice friends with diverse research backgrounds and interesting discussions. Most importantly, it was a good start for my American life and study as an international student. "
–Ran (Frank) Sun
"Mobility Quest was a sweeping introduction to transportation issues and topics of today. It covered everything from technologies on the horizon to planning and today's demand issues, and it was a great way to meet my fellow incoming classmates. I feel much more prepared to begin my program after having gone on this trip."
–Peter Benoliel
"MobQuest was a fantastic combination of fun and learning. It was so much fun getting to know my fellow incoming students and the continuing students, too. The diversity of research interests among the students was so striking that you were bound to ask a lot of questions and learn something from each other. The organization and company visits also gave you a new perspective about the way different people work towards sustainability and transportation issues. On this trip, a group of strangers became a community. I definitely recommend it. Lots of thanks to the organizers."
–Anish Kumar Sinha
"MobQuest is, first of all, a great opportunity to meet and bond with your fellow students in transportation studies. This trip provides a lot of social activities, and it is great to start the school year with friends and familiar faces in the different classes. Second, MobQuest covers different fields that are related to transportation engineering and policies. During the trip we visited fascinating transportation companies and I learned a lot about transportation issues in California and beyond. I highly recommend MobQuest. Be part of this unique experience!"
–Koral Buch