Proudly Presenting our 2017 Doctoral and Master's Degree Sustainable Transportation Grads
If there ever was any doubt that earning a graduate degree in sustainable transportation at UC Davis is an "elevating" experience, those doubts were removed at the June 15 commencement ceremonies for our 2017 doctoral and master's degree graduates.
ITS-Davis is the host of the interdisciplinary Transportation and Technology Policy (TTP) graduate group program, through which many of our graduates earn their degrees. We also welcome graduates from other departments at the university [Civil and Environmental Engineering (CEE), Ecology]who focus their studies on transportation.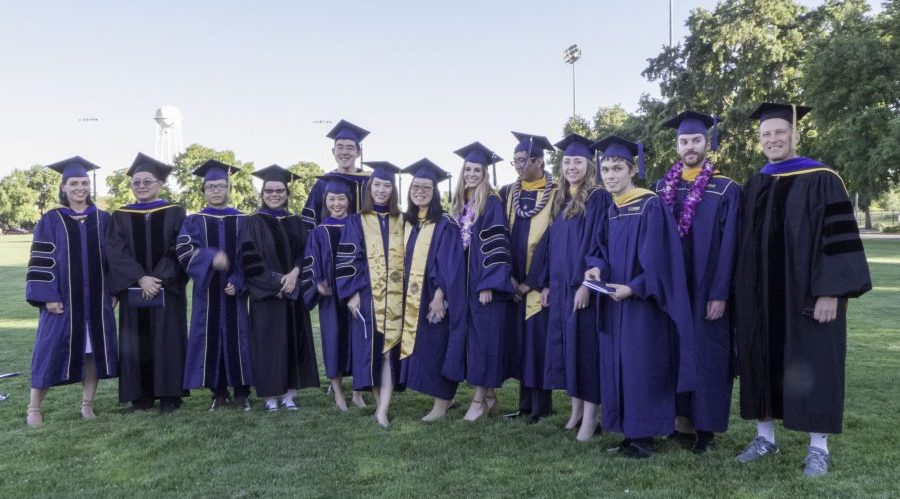 Pictured in the more staid shot (before the celebrations broke out) are this year's grads, with faculty. From the left:
Maria Brum – Ph.D., Ecology
Professor Michael Zhang – CEE/TTP faculty
Huajun Chai – Ph.D ., CEE
Professor Yueyue Fan- CEE/TTP faculty
Yudi Yang – Ph.D. , CEE (tall grad in back)
Yizhen Zhang – Ph.D., TTP (standing in front of Yudi)
Huijing Deng – Ph.D., TTP
Xiuli Zhang – M.S., TTP
Laura Cackette – M.S., TTP
Arthur Wu – M.S., TTP
Sarah Strand – M.S., TTP
Dominique Meroux – M.S .,TTP
Drew Heckathorn – M.S., TTP
Professor John Harvey – CEE/TTP faculty
Congratulations to all for your great achievement. We look forward to the transformations you'll be bringing to the field of transportation in the coming years.
To learn more about how to take your career in transportation to new heights at UC Davis, go here.