Sustainable Transportation Electrifies UC Davis Picnic Day 2018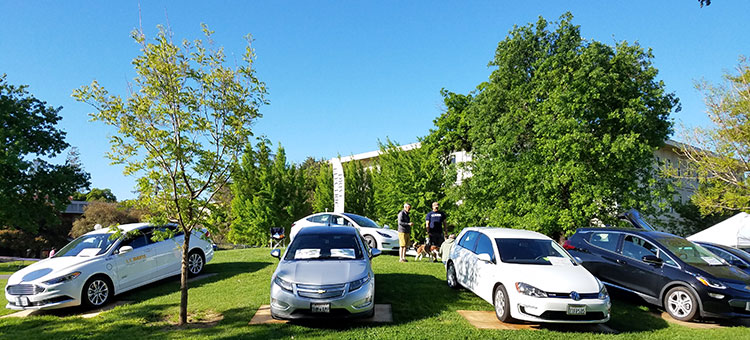 By Veronica Vargo
The Institute of Transportation Studies brought sustainable transportation to the 104th annual UC Davis Picnic Day this past Saturday, with our Plug-In Hybrid & Electric Vehicle Research Center sponsoring an Electric Vehicle Showcase. Five all-electric vehicles and three plug-in hybrids were on display in front of Bainer Hall, and fun, interactive activities were held for adults and children.
The cars—a Nissan Leaf, Ford Fusion, Chevy Volt and Bolt, Volkswagen e-Golf, Chrysler Pacifica and Tesla Model S and Model 3—were mostly privately owned vehicles. The Ford Fusion was on loan from the UCD Campus Fleet. While people were drawn to the rare sight of a Model 3, many stayed to check out the program, the cars, and to write on a specially designed Nissan Leaf with a wipeable "whiteboard" finish.
Attendees of all ages made their mark on the Leaf, with drawings ranging from stick figures to mathematical equations. Coloring book images of zero-and-low emission cars were distributed with crayons for children to fill in and beautify, while their parents talked to car owners and PH&EV volunteers (some were both) about EVs emerging role in transportation.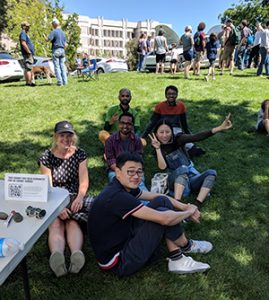 The EV enthusiasts shared how these cars are suitable for people from all walks of life and for wide ranging mobility needs. The Pacifica minivan, for example, represents the versatility of EVs to accommodate families, shattering the stereotype that all EVs are compact with limited cargo space.
"It was important for us to showcase that these cars exist and that there are a variety of models," said Katrina Sutton, project manager at PH&EV Research Center. "People use them for their everyday activities, and don't need to change their lifestyle to enjoy these cars."
Literature about ITS-Davis and the Sacramento Electric Vehicle Association were circulated to attendees, as they glanced at the signs listing fun and quick facts about each vehicle.
"The local electric vehicle club in the Sacramento area was there so people are aware of local resources."
Over the course of the hot day, befitting this year's Picnic Day theme of "Where the Sun Shines," SacEV was able to log the number of interactions at the showcase of around 500.
EV Showcase provided a gateway to talk with Picnic Day 2018 attendees about zero-and-low-emission cars, as well as to discuss the research conducted here at ITS-Davis and the future of mobility.
The EV Showcase represented the return of ITS-Davis to Picnic Day, with a display this year of electric vehicles that are commercially available to consumers. The showcase was one of more than 200 Picnic Day events taking place across campus. Called the university's annual open house, Picnic Day routinely draws large numbers of students, alumni, staff and faculty, as well as residents of Davis and nearby communities. This year's event was described as "picture perfect" in the local press and began as always with an opening ceremony and parade.