UC Davis Alumnus Patricia Hendren Receives the Distinguished Alumni Award from the Eno Center for Transportation
By Seth Karten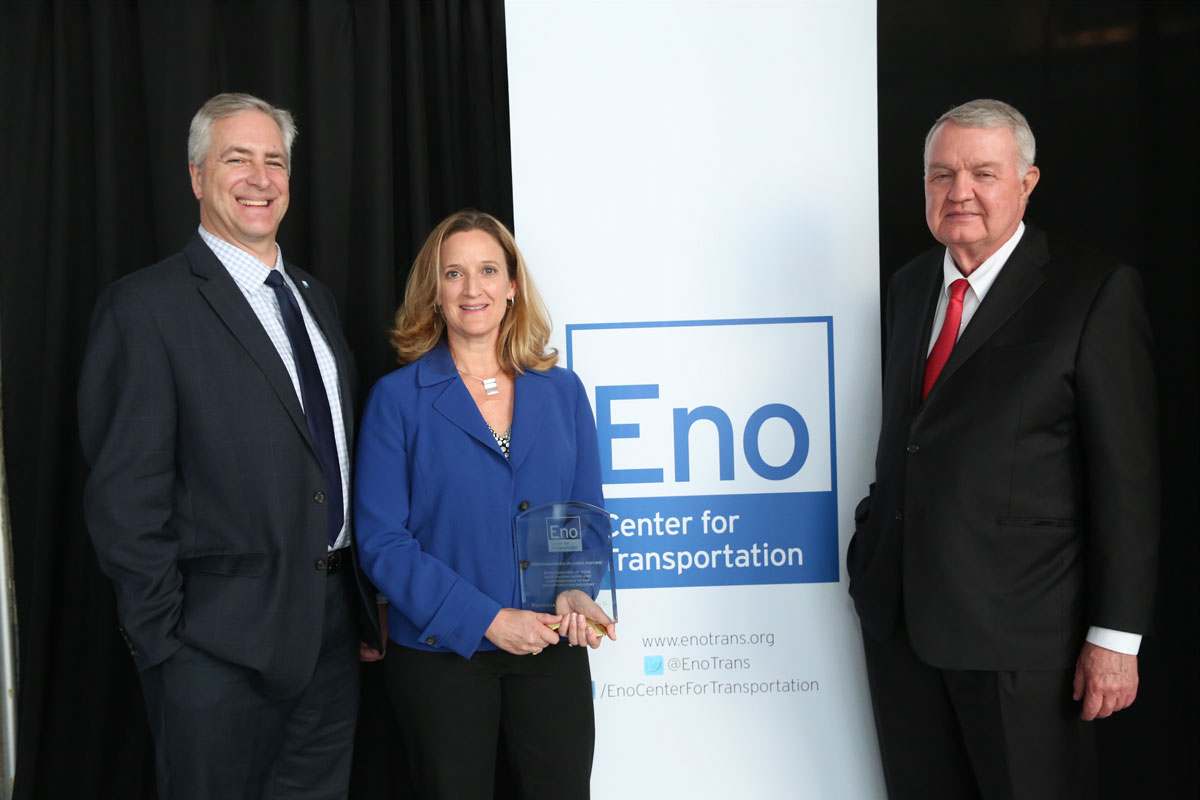 Last month in Washington, D.C., Dr. Patricia (Trish) Hendren, Executive Director of the I-95 Corridor Coalition, was presented with the Distinguished Alumni Award from the Eno Center for Transportation for her public service and contributions to the field of transportation. Eno is a D.C.-based non-partisan think tank that promotes policy innovation and provides professional-development opportunities in transportation. The Distinguished Alumni Award recognizes former participants in Eno's training and leadership programs who have made notable contributions to the transportation industry or to Eno.
Dr. Hendren, an alumnus of the Transportation Technology and Policy (TTP) Program at the Institute of Transportation Studies at UC Davis (ITS-Davis), said "I was amazed and honored to receive this award. It is a huge compliment—from an impressive organization that looks out for the transportation field and addresses issues in a thoughtful and comprehensive manner."
Robert Puentes, President and CEO of Eno said, "As a 1999 graduate of our Leadership Development Program, there is no better person for this award than Trish. She has spent her career turning data into useful information, helping agencies overcome barriers to information-based decision making, and demonstrating investment needs to a range of stakeholders."
Dr. Hendren is currently the Executive Director of the I-95 Corridor Coalition, a partnership of over 100 state transportation agencies, toll authorities, and public safety organizations from Maine to Florida. Under Dr. Hendren's leadership, the Coalition has embarked on and enhanced initiatives related to incident management, traveler information, supply chain performance, freight planning, truck parking, toll reciprocity, connected and autonomous vehicles, and funding alternatives.
Dr. Dan Sperling, the director and founder of ITS-Davis and founder of the TTP program, noted, "Trish was a pioneer. She was in the very first TTP class. In fact, she came before the program was formally approved, in the hope and expectation it would be approved. We are so proud and have been so appreciative of Trish from Day 1!"
Dr. Hendren credited the TTP program for helping her to make an impact in the transportation world. "The program is unique in preparing students with a broad mix of skills that are needed to tackle transportation planning: engineering, urban planning, economics, social science, and public policy," she remarked.
After majoring in English as an undergraduate, Dr. Hendren's early career focused on enhancing energy efficiency. This led her to feel that transportation can have a significant impact on people's lives while addressing problems in energy and the environment. Dr. Hendren's graduate work at UC Davis provided an opportunity to explore her newfound passion.
"I appreciated how the [TTP] program could take an English major like me and bring me into a field typically thought of for engineers. What I learned at Davis continues to inform my approach to addressing our transportation challenges on a daily basis," Dr. Hendren commented.
Seth Karten is a science writer for the Institute of Transportation Studies at UC Davis.