Apply to Transportation Technology and Policy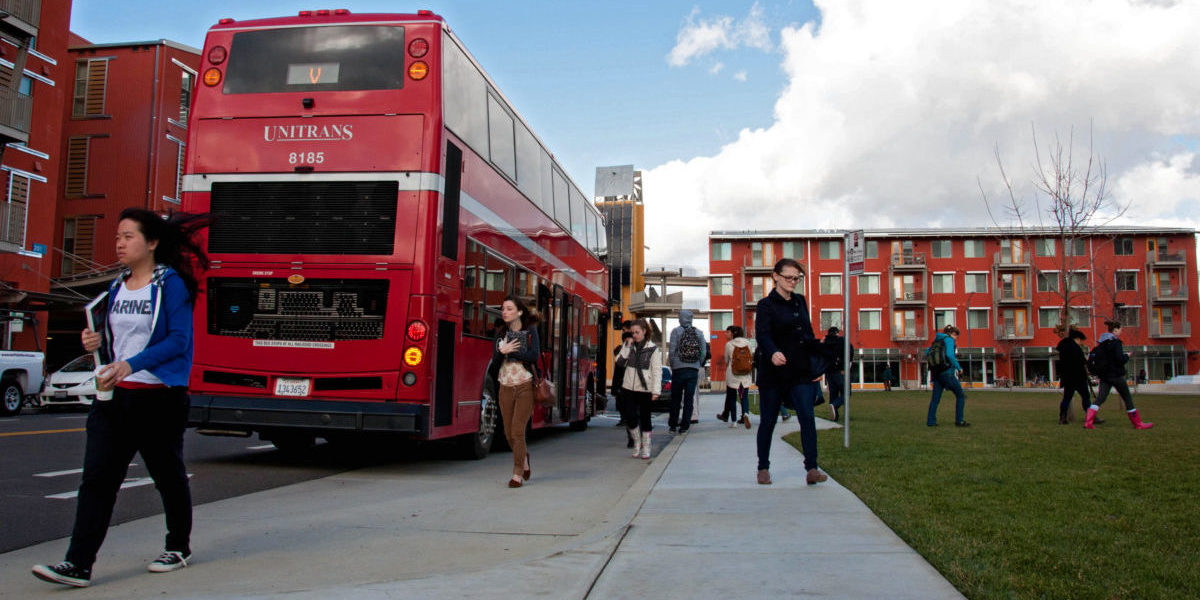 Welcome!
We are delighted that you are interested in joining us as a graduate student at the leading university center in the world on sustainable transportation. The Transportation Technology and Policy (TTP) program provides an opportunity to do interdisciplinary research to address pressing transportation, environmental, economic, policy and social challenges facing California, the U.S., and the world.
Over time, our TTP students have come from undergraduate majors as diverse as physics, economics, business, geography, anthropology, sociology, history, and English, as well as various engineering majors. Our graduate students come from across the U.S. and from countries around the world. They bring a diversity of ideas, issues, cultures and backgrounds to ITS-Davis. In fact, this diversity is one of the strengths of our program, as these backgrounds blend with the expertise of our current faculty and students to create new ideas that wouldn't have been stimulated otherwise.
Our students can pursue either a technology or policy track. This approach allows flexibility in creating a course of study crossing traditional disciplinary boundaries. The TTP graduate curriculum draws on a multitude of academic disciplines.
TTP is made up of more than 30 faculty and researchers and more than 50 graduate students.  Many of our students are actively engaged in funded research at the M.S. and Ph.D. level, and fellowships are available each year for outstanding applicants.
The TTP degree gives students the tools and ability to pursue leadership roles in government, academia, NGOs and industry.
TTP Admission Schedule
Admission to graduate studies requires a bachelor's degree from an accredited institution. Students are generally admitted for the fall quarter, but exceptional cases for off-cycle admission can be considered. The application deadlines for admissions are:
Priority Deadline: January 15
Applicants who submit their application to the graduate program by the Priority Deadline will receive priority review for admission. These applications will also receive the highest priority in consideration of funding opportunities. We strongly encourage applications for any form of financial aid by this date as well.
General Deadline: April 1
Applicants who apply by the General Deadline (but after the Priority Deadline) will have their files formally reviewed for admission by the graduate program but will not be reviewed on a priority basis.
Space Available Deadline: June 1
Applicants who apply by the Space Available Deadline (but after the General Deadline) are not guaranteed to have their application reviewed by the graduate program.  Their application will be reviewed only if the graduate program determines that they have additional space available.
TTP Admission Criteria
Master's degree applicants must have earned a grade point average of at least 3.0 in the junior and senior years of college and must submit scores on the General Test of the Graduate Record Examinations (GRE) and three letters of recommendation.
Doctoral applicants normally will have earned a minimum grade point average of 3.5 and must also submit GRE scores and three letters of recommendation. Doctoral program applicants are strongly encouraged to communicate with potential research advisers (one of whom will become their Major Professor) in order to introduce themselves and inquire about faculty willingness to accept a new student in this degree program when applying to the program. This process of communicating with potential Major Professors should begin in the Fall, prior to the relevant applications deadline. Applicants should take the initiative to inquire about future research directions of the professors, exchange research ideas with potential Major Professors, and make every effort to identify viable possibilities. While formal acceptance into a research group cannot occur prior to admission, contacts should be far-enough developed such that at least tentative identification of a research adviser can be made as soon after the time of admission as possible.
International students are expected to achieve a minimum score of 550 on the paper-based or 80 on the iBT Test of English as a Foreign Language (TOEFL), or an overall BAND score of 7 or more (on a 9-point scale) on the IELTS exam. TOEFL and IELTS scores expire after two years.
TTP Application Process
ALL OF THE FOLLOWING DOCUMENTS MUST BE RECEIVED BY OUR DEPARTMENT IN ORDER FOR YOUR APPLICATION TO BE CONSIDERED
Apply Online – Admission FAQs UC Davis only offers application fee waivers to applicants who have participated in specific graduate preparation programs (for a full list see Graduate Preparation Program Participants)
Statement of Purpose and Personal History Statement. The Personal History Statement provides an opportunity for applicants to tell the Admissions Committee something about their unique backgrounds and personal histories. It may include information about other pursuits and interests of the applicant. It may give some details about any obstacles or disadvantages the applicant had to overcome, or inspiration  for their pursuit of a graduate degree.
Three Letters of Recommendation. All letters must be submitted electronically by the referee.
UC Davis requires academic records from each college-level institution you have attended.  You will be instructed to upload scanned copies of your transcripts after you have submitted your online application.  For more details visit https://gradstudies.ucdavis.edu/submit-transcripts.
GRE Scores – Not needed for the Fall 2021 application cycle.
TOEFL or IELTS Scores, if applicable. English language testing is required for all applicants whose native language and primary language of instruction is not English. UC Davis accepts both the TOEFL and IELTS examinations. TOEFL scores must be sent electronically to institution code 4834. IELTS scores must be mailed to the TTP Graduate Coordinator:

Annemarie Schaaf
TTP Graduate Program Coordinator
1605 Tilia Street, Suite 100, West Village | (530) 752-0247

TTP Prerequisite listing – send AFTER you have submitted your online application (Prerequisite Frequently Asked Questions) Also, please provide this information in the Prior Coursework section of your online application. If you have deficiencies in any of these areas, you will need to complete them in your first year of study.

Calculus
Intermediate Probability/Statistic (with calculus)
Intermediate Economics (preferably with calculus)
If you have questions or need assistance, our Graduate Program Coordinator, Annemarie Schaaf, can be reached at aschaaf@ucdavis.edu or at 530-752-0247.
For general program questions and advice, contact contact Dr. Gil Tal, Professional Researcher, ITS-Davis and TTP recruiting and admissions leader, at gtal@ucdavis.edu.