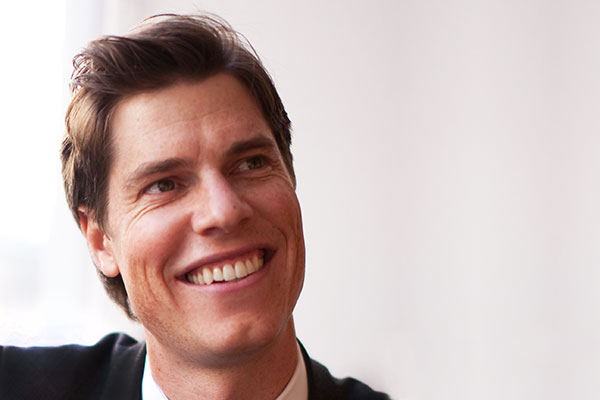 ITS-Davis alumnus at the top of his game in a "moment of change"
Anyone who's been part of ITS-Davis for the past few years might smile when they hear the name Ryan McCarthy. His academic accomplishments are no laughing matter, but people might better remember him for what he did beyond the classroom, literally outside the Institute's doors.
"I would organize whiffle-ball tournaments in front of the office with students and staff from the department. The windows of the chemistry labs across the way were singles, doubles and home runs," said McCarthy.
As someone who put together countless intramural teams during his college years for flag football, softball and basketball, McCarthy definitely has a love for sports, a childhood passion that coincided with an early interest in the environment as well.
"I've thought that the environment was an important issue for as long as I can remember. As a little kid, I would shoot baskets on the driveway, pretending to be the Warrior's "Starting 5", and think about how I could solve the world's energy problems from the free-throw line," said McCarthy.
And now, the 2009 Ph.D. graduate is doing just that. Appointed by Governor Jerry Brown as the Science & Technology Policy Advisor to Chairman Mary D. Nichols at the California Air Resources Board, McCarthy focuses on transforming California's energy and transportation sectors.
"I work on issues dealing with advanced vehicle and fuel technologies," he says, by investigating the economic, environmental, and resource impacts of new vehicles and fuels on energy use and emissions in the state. "I also meet with various stakeholders and government agencies to help design and implement our clean air, energy and climate policies," says McCarthy.
Prior to this current work at the California ARB, McCarthy worked with PH&EV Research Center director Dr. Tom Turrentine in 2010 as the chief writer for the state's pioneering plug-in electric vehicle strategic plan, Taking Charge.
McCarthy was also a Science and Technology Policy Fellow for the California Council on Science and Technology, working in the office of California Assembly Member Wilmer Amina Carter on issues associated with energy, utilities and the environment.
"I helped write and analyze bills, prepared Ms. Carter for committee hearings, and responded to constituents. Working for the state legislature exposed me to the real-world impacts of policy on a diverse set of people," said McCarthy. "Energy and technology affects so may aspects of our society. And California is a global leader in those areas, partly because of its pioneering energy and air quality policies. So it's exciting to be working on these issues."
McCarthy believes much of what he does now goes back to his time at ITS-Davis.
"Being at ITS-Davis provided me with the perfect background because what I did there is similar to what I do at ARB now. Davis has a great interdisciplinary and policy focus, which matched my own personal interest in transportation, energy and policy," said McCarthy.
McCarthy graduated from UC San Diego in 2002 with a bachelor's of science degree in structural engineering and earned a Ph.D. in Civil and Environmental Engineering in 2009 with the help of his faculty advisors Joan Ogden, Christopher Yang and ITS-Director Daniel Sperling.
"My whole experience at Davis was shaped by them. They taught me how to track issues analytically and to carefully read the implications from policies. Chris was able to break complex problems down into solvable concepts. I was always amazed by his ability to provide elegant, simple answers to complex questions. Joan always pushed me to ask questions and to think deeper. And Dan was the master of policy (by grant at here). He taught me how to frame issues and make my papers more compelling to a wider audience."
"They led me to where I am today, so I'm very grateful for my time at Davis. The program provides very practical, useful knowledge to students that extend beyond theory. Students learn to broaden their focus to address some of the world's most pressing challenges from all different perspectives."
"ITS-Davis provides a broad exposure to industry stakeholders and gives its students access to real people in the real world. So it's an exciting program that opens up career opportunities both inside and outside of academia," said McCarthy.
The future, in fact, is an important topic for McCarthy, who sees a notable difference in what can be achieved from the generation of tomorrow.
"I'm very optimistic about the ability of young generations to tackle issues around climate and energy. I was born in Mountain View, the heart of Silicon Valley, so faith in the capacity of creativity and innovation runs in my blood," said McCarthy.
"We're in a profound moment of change right now where we're in the middle of a transition from how things were to how things are going to be. I see tremendous potential in the next generation to evolve and adapt and to ultimately change the entire world in terms of transportation and technology."
And with the recent arrival of his first son nine months ago, there's a good chance that McCarthy will parent that very change himself.