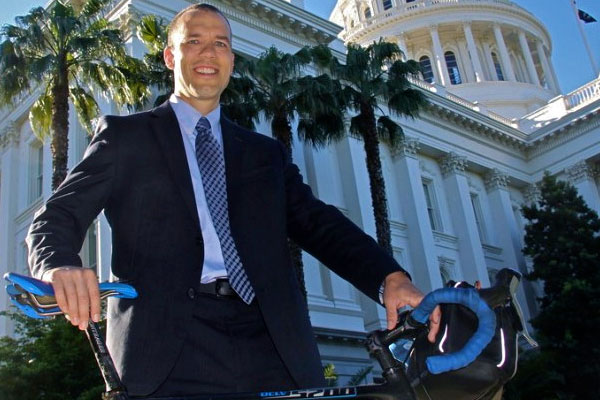 ITS-Davis alumnus pursues policies for a better quality of life
By Alston Lim • UC Davis 2014
In the summer before his senior year of college, Anthony Eggert could have worked at his fourth internship to earn more money and improve his resumé, but he decided instead to embark on a soul search on wheels: a 3-month, 3,000-mile bicycle trek across Europe.
"The trip was the first opportunity I had to interact with new people on a daily basis," said Eggert. "I was exposed to a wide diversity of perspectives on what was important for people in their life and work. It was life-changing in that it later helped me better understand how I could pursue and develop technologies and policies that could contribute to an improved quality of life."
Seventeen years later, Eggert is using that experience and insight to direct a bold new campus-wide initiative, the UC Davis Policy Institute for Energy, Environment and the Economy, where he works with UC Davis' world-class research centers to leverage university expertise to inform better policy.
The Policy Institute was launched this spring with strong support from Chancellor Katehi and campus leadership as well as seed money to incentivize fundraising.  The Policy Institute focuses on subjects where UC Davis has recognized expertise including sustainable mobility, clean energy, energy and water efficiency, climate, agriculture, and ecology, including air and water quality.
From childhood, Eggert has wanted to know how things work and how they could be made better.
"I loved taking things apart—radios, vacuum cleaners, motors—and then building simple things out of whatever we had lying around. My mom was a very skilled craftsman.  She would give me tips and lend me her tools but I relied mostly on duct tape, hammer and nails."
When he was nine, Eggert built his first zero-emissions vehicle—a wooden go-kart with wheels from a disassembled lawnmower.
"It was 'fueled' by gravity as we had a large hill nearby our house. It worked surprisingly well!"
When Eggert wasn't dissecting household appliances, he spent his time outdoors.
"As a kid, I would walk out my back door and walk for hours through the nearby woods, marshes and fields. On hikes with my father, he would point out different plants and animals and describe where they fit into the larger ecosystem."
His father (James Eggert) and grandfather (Robert Eggert) showed him how to conserve and improve the environment.
"They were both economists and taught me about the basics of markets, like the nature of supply and demand. They also taught me about how some things were often left outside of traditional markets, including positive and negative 'externalities,' as in when our actions affect others and those effects are not included in the market price."
"My grandfather, who was director of marketing for Ford Motor Company in the 1960s, was particularly focused on the negative externalities from the transportation energy system including pollution and energy security.  He was convinced that there must be technological solutions to this and encouraged me pursue a career in science or engineering to work towards these solutions."
His grandfather's words of encouragement ultimately inspired Eggert to enroll in the mechanical engineering program as an undergraduate at the University of Wisconsin, where he worked "to understand how we could use technology to provide people the things they need and want while minimizing their environmental footprint."
Seeing a shortcoming in the department's course lineup, Eggert used his enjoyment of taking things apart to create a new technical elective that involved the dissection and "reverse engineering" of mechanical equipment. It is still offered as part of the engineering curriculum.
After graduating with a bachelor's of science degree in mechanical engineering in 1996, Eggert became an engineer with Ford Motor Company. There, he worked on fuel economy and emissions testing and regulations for all of Ford's vehicle platforms, and analyzed Ford's nascent hybrid, battery and fuel-cell-vehicle programs.
Working for the industry giant effectively renewed Eggert's interest in the interaction between technology and policy, and he was drawn to ITS-Davis and its reputation for cutting-edge interdisciplinary research on clean cars. In 1999, he began working on a master's degree in Transportation Technology and Policy at ITS-Davis. His faculty advisors were then-Fuel Cell Modeling program director Robert M. Moore, engineering professor Michael Hoffman, and ITS-Davis director Daniel Sperling (by grant at here). His research focused on transportation technologies and policies that had the potential to provide cost-effective personal mobility with significantly improved environmental performance.
After graduating in 2001, Eggert returned to Ford to manage their California Fuel Cell Partnership office in West Sacramento.
In 2003, he became associate research director of a new UC Davis interdisciplinary research program dedicated to understanding the technical, economic, business and policy issues associated with the transition to clean fuels and vehicles.
In 2007, he took a six-month assignment as energy policy advisor for the University of California Federal Government Relations office in Washington, D.C., helping UC researchers connect with Congress members and their staff for better science-based lawmaking.  It was there he learned of the critical need and desire for good objective knowledge to inform the policy process.
"I found the legislative and agency staff members were tremendously appreciative to receive accessible and reliable non-advocacy information to help them with their deliberations on complex legislation, especially in the area of environment and energy," Eggert said.
Then Eggert was appointed by California Gov. Arnold Schwarzenegger as senior policy advisor to Mary Nichols, the chair of the California Air Resources Board, where he worked on the implementation of Assembly Bill 32, the Global Warming Solutions Act of 2006, which mandates specific reductions of greenhouse gas emissions in the state by the year 2020.
Starting in January 2010, Eggert served a year on the California Energy Commission, with committee positions for energy efficiency, climate change, transportation, and power-plant siting cases and in February 2011, he was appointed by Gov. Jerry Brown as deputy secretary for energy policy at the California Environmental Protection Agency, where he served until January of 2012 before taking his current position at UC Davis.
Eggert says his experience working within the industry, government and academic sectors have allowed him to see and appreciate the great hunger for objective knowledge within the policy-making community.
"I was pleased to find that this type of information was warmly welcomed by many policy-makers who truly wanted to understand the underlying science and research about a particular technology or policy they were considering," said Eggert.
As the executive director for the UC Davis Policy Institute for Energy, Environment and the Economy, Eggert will be satisfying that appetite by helping to bridge the gap between science and policy-making.
"The quantity of policy-relevant information and knowledge about energy and environmental issues that already exists on campus is enormous," he said. "UC Davis's commitment to interdisciplinary research makes it uniquely positioned to address the most pressing policy questions. But we are only scratching the surface when it comes to integrating this information into the policy discussion.
"Our main mission at the Policy Institute, therefore, is to substantially increase the value and accessibility of this information through translation and communication, and to better understand the needs of the policy-makers so that we might deliver timely answers and insights into the policy process as well as inform our own research agenda."
Looking back, Eggert credits much of what he has accomplished to the ITS-Davis graduate program in Transportation Technology and Policy.
"The program places a significant emphasis on the synthesis of knowledge across multiple fields of study, including science, engineering, business, environmental policy and behavioral sciences. Students learn to see why things are the way they are and what we can do to change them for the better. This cross-disciplinary understanding served me well as a policy-maker and will definitely continue to be helpful in my new role at the Policy Institute."
Photo: Anthony Eggert at the California Capitol, in April 2012 (Sylvia Wright – UC Davis)
Relevant Links: